Workshops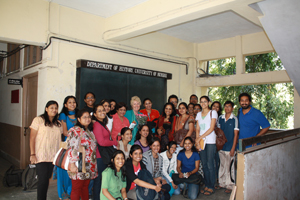 University of Mumbai Workshop
January, 2011
Valerie Miner enjoys working with story writers and novelists and non-fiction writers employing a range of styles. She is especially interested in the rhythms of language, the shape of fictions and in strategies about narrative alternatives. Her classes are highly inter-active and involve a mix of manuscript critique, craft tutorial, reading of international fiction and discussion of the vocation of a writing life.
Participants consider how the stories we write/read are related to the world around us. She approaches fiction and literary non-fiction with an eye to what keeps us aesthetically stimulated, emotionally engaged and socially connected. She looks forward to reading a variety of artistic voices in the classes.
Valerie Miner has taught at a number of workshops
and writing seminars including Bread Loaf Writer's Conference,
Middlebury, Vermont; Key West Literary Seminars, Florida; Centrum, Port Townsend,
Washington; Writers at Work, Utah; Split Rock Program, Minneapolis, Minnesota;
Foothill College, California; Fishtrap, Oregon; Flight of the Mind, Oregon;
Haystack, Oregon; International Women's Studies Institute, Greece; The Grange,
Tasmania; Vermont Studio Center, Johnson, Vermont; Atlantic Center for the
Arts, Smyrna Beach, Florida; Mendicino Coast Writers Conference, California;
Aspen Writers' Conference, Aspen, Colorado.
---
What Students Say about Valerie Miner: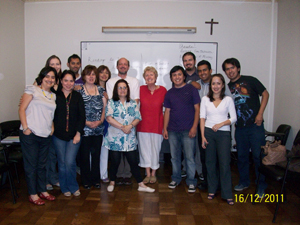 Writing Workshop
Alberto Hurtado University
Santiago, Chile
12 December, 2011
"I have really enjoyed this class. It's been helpful and meaningful on so many levels – improving my craft, exploring my identity as a writer, sharing thoughts in a safe place. I think she did a marvelous job of facilitating this class and allowing everyone's voices to be heard. I greatly appreciate her organizational skills and the time and care she obviously put into the class. A great experience."
"Her support, encouragement, and also careful consideration of practical and realistic goals have tempered my tendency to make unrealistic demands on my own work while pushing me to produce the best writing I'm capable of."
"Valerie is supportive of student work and student professional development – a rare and valuable combination."
"She keeps discussions structured and to the point, is highly knowledgeable about her material and best of all, manages to instill some of her own real enthusiasm to students. She's wonderful."
"The work I produced in Valerie's seminar was amongst my best, because she inspired me to stretch my capacity as a writer and a critical thinker."