Reviews
---
From SF Bay Times
Excerpt from Master Storyteller Valerie Miner's New Collection Bread and Salt
(Valerie Miner, a professor at Stanford University and an Artist-in-Residence at the university's Clayman Institute for Gender Research, is the award-winning author of fifteen books and has just published Bread and Salt, her fourth collection of stories. In it she deftly moves readers across the seas with lush prose and razor-sharp insight. The collection's stories celebrate the musical complexity of language while addressing real world themes of immigration, suicide, gun violence, and state terrorism. 
Two of her previous collections were Lambda Finalists, and we hope that Lambda honors her in the coming year. Her prior novels include Blood Sisters, After Eden, and All Good Women.
We first met Miner at Betty's List book events, and our admiration for her work has grown over the years. She now visits book clubs gratis on Zoom in support of indie bookstores—something else we admire. Miner, who lives in San Francisco and Mendocino with her partner, generously shared the following excerpt from Bread and Salt (2020, Whitepoint Press). It is a welcome slice of travel life during these more isolating pandemic months.)
From Noe Valley Voice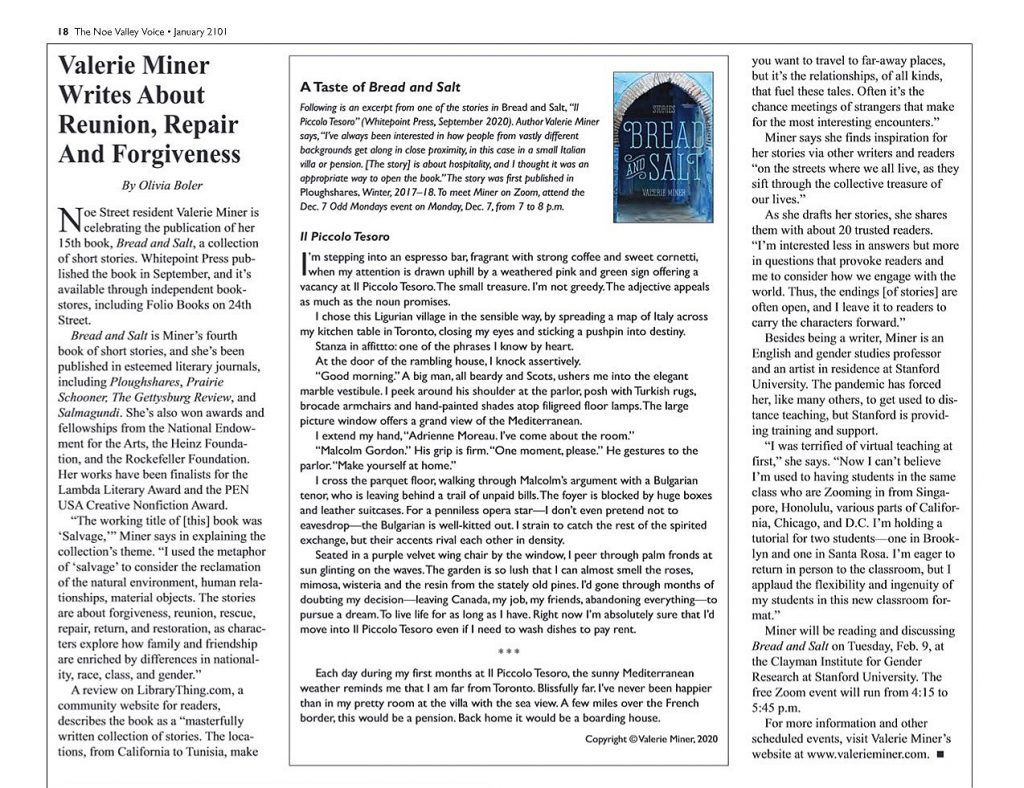 ---
From StarTribune
Minneapolis is the jumping-off point for Valerie Miner's transporting new novel,
which follows a young doctor on a distinctive, life-changing journey to work in
India. When Monica Murphy arrives in the New Delhi airport after nine hours of
travel, she is "thrilled, terrified, dazed … to be so far from home." Her initial
mantra is the best traveler's advice she's been given so far: "Prepaid taxi."
Monica is still grieving the loss of her mother, who died the year before, and is
worried about her estranged sister, whose drinking worsened during their
mother's decline. Office politics and frustration with bureaucratic rituals have
soured her work in a Minneapolis clinic. She has accepted a job as a doctor in
a Catholic mission in Moorty, in the foothills of the Himalayas, with one caveat:
Indian immigration is watchful of doctors working there, the clinic's director tells
her, so she must strictly obey regulations against proselytizing.
Monica is sensitive to nuance, and careful not to force the Indians she treats
into her own cultural viewpoint (although she does, upon her first taste, call
uthapoms "a cross between pizza and latke"). She frequently cautions herself
not to be self-absorbed, and bites her tongue when one of her new friends, a
Delhi-based philosophy professor named Ashok, calls her naive and questions
her motives for coming to India. "What a curious man. Acerbic. Considerate.
Gentle. Irascible."
Monica relishes her work at the clinic, which she finds "more conducive to
healing than Lake Clinic. If she needs more than 20 minutes with a patient, she
takes it. No insurance forms. No unctuous visits from drug company reps. …
No invasive, dysfunctional pseudo-efficient system here."
The patients and staff are helpful and tolerant of her fragmented Hindi. But this
is not the spiritual community she had wished for, she discovers, as tensions
surface. The clinic's doctors are at odds over providing family-planning options
to patients and setting up a satellite clinic. A group of young men — right-wing
Hindu nationalists — make a threatening visit to the clinic. She reads of a
church being firebombed. Ashok advises against a dream trip — the Hindustan
Road — she plans with her friend Sudha, a teacher.
Miner, whose eight previous novels often explored the shifting bonds of
community, makes it easy to empathize with her intrepid narrator. She also
makes it clear that Monica doesn't always recognize danger when she sees it,
which adds an emotional punch to this subtle and immensely moving novel.
Jane Ciabattari is vice president/online and former president of the National
Book Critics Circle and a regular contributor to NPR.org, the Daily Beast and
the Boston Globe, among others. —Jane Ciabattari
---
From Project Muse
Travel and reunions affect sudden knowledge in this volume of reflective yet fast-moving stories.
In depicting the world of friends as family, Valerie Miner explores the combination of good humor, tactful silence or ignorance, shared travel and delicious meals that sustain friendships, including marriage, over time. Thus in "All the Way" the narrator observes, "We have come to Cornwall this year for the coastal path, for the priory, and for their marriage, which is showing some strain – although being authentic English people, neither mentions the trouble. Their interests have shifted, creating huge questions about where and how to live." In their periodic reunions each finds call for tolerance: "You might think it strange to go on a second honeymoon with your former boyfriend and the roommate who stole him." The present is clearly more trying than the past: "It has to be said that Muriel believes in God. She expects their marriage to be renewed by a visit to the priory." The ensuing, hilarious dialogue and reinterpretation of the past is pure Valerie Miner, who makes a reasonable allowance for ghosts in staving off "the roar of loss."
Curiously modern ghosts enter as third figures in many of these tales, where they set new events in motion, such as the revelation of hitherto camouflaged identities… Set in Scotland, "They Burn Witches, Don't They?" contrasts the two principal characters, "vegetarian mysticism versus agitprop earnestness" in old schoolmates from "St. Leonard's, the most proper girls' academy in Scotland. I have tried to escape that henhouse everywhere from Essex to Tangier." The earnest, present-oriented labor lawyer describes her travel from London to Scotland for a weekend with her mystically-inclined friend: "I had advised Rosemary that it was frivolous for a talented feminist writer to waste her time writing a book about witches and spirits." The lawyer ostensibly travels to assist "Miss Mack," a downstairs neighbor whose long hours as a custodian are paid at a pound an hour less than men doing the same job. After Miss Mack inconveniently dies, and is increasingly revealed to have been quite other than what she seemed, keen observations about money, family, and privacy ensue: "if loneliness troubled Miss Mack, it also provided her with her last sacred source of control from the world which already knew too much about her." While the narrator warns us, "it wasn't much of a ghost tale," the most knowing are most ignorant: "we both had known Miss Mack, in a different life." With her unexpectedly witch-like powers, Miss Mack enjoyed the friendship that her neighbor freely offered. Faced with limited choices, she did better than her neighbors and family imagined. "They Burn Witches, Don't They?" is like many of these stories: Jamesian in its layering of well-timed recognitions that emerge from a combination of rational analysis and imaginative mysticism, a gift for dialogue and for telling domestic details. True identities appear at the last minute, like the photograph unexpectedly revealed, then rescued from the flames. —Elizabeth Horan
---
From Booklist
Miner skillfully presents Chicago urban planner Emily, whose annual return to a Northern California women's land collective for rest and relaxation in her cabin turns to tragedy when her life partner's flight goes down in flames. So, too, do her hopes for happiness here despite the kind support of her neighbors and the land's breathtaking beauty. Michael, her attorney brother, arrives to assist his sister on her slow journey through grief and healing and becomes increasingly attracted to the landscape and one of the women. He finances Emily's extended leave from work when a neighbor's accident motivates his sister to stay and help out, but she soon begins to see trouble in paradise. A rash of fires is thought to be arson. Is it the work of migrant farm workers, or maybe environmentalists? The logging interests who find it cheaper to sell the land to vintners than reforest? Miner weaves a gripping tapestry of conflicting interests in a novel in which nature is a major character.—Whitney Scott
From Hollins Critic
After Eden. By Valerie Miner. Norman: University of Oklahoma Press, 2007. $24.95 (cl.)
Valerie Martin's thirteenth book, After Eden, is the story of Emily Adams, a regional planner from Chicago who is forced to reevaluate her life after her partner, Salerno, is killed in a plane crash. Emily learns of the tragic news as she awaits Salerno's arrival at the couple's cabin in Northern California. As Emily's summer vacation becomes an extended leave of grief, her plans to return to a semblance of the life she led in Chicago are rearranged by the pull of rural life, her connection to the Northern Californian landscape, and the cooperative property she and Salerno shared with three other families in the lesbian community. In turn, Emily's hiatus leads her to redefine her sense of home, family, and most importantly, her sense of self.
Although the story treads over familiar territory, Miner raises the bar by framing Emily's course of self-repair with stunning lyrical prose and striking literary reinterpretations. The novel draws some of its inspiration from Milton's Paradise Lost, and Miner's modern revision provides a graceful correlation to the classic while adding depth to Emily's story. Miner relies heavily on fire imagery – the romantic comfort of the hearth and the sun just as much as the threat of wildfires – to depict the often blurred lines between destruction and regeneration, death and rebirth, hell and home. Emily wonders, "How would she survive without Salerno's fire?" even as plumes of smoke remain in her periphery and the threat of an arsonist impinges on the community. Supporting characters are given names and roles familiar to the epic poem, as Emily reconciles her tumultuous life with the Edenic Northern Californian landscape. Emily's brother, Michael, proves to be a crucial ally, providing her the wherewithal to take her sabbatical. Emily also finds a potential romantic interest in the character of Eva, a forest ranger working under a pesky Crusader for Christ named Hayden. Hayden represents one extreme of the potentially explosive cultural dynamic at play in the area, which also includes vintners, loggers, migrant workers, dope growers, Native Americans, environmentalists, and a burgeoning gay community.
As Emily longs for Salerno's companionship, the mountains surrounding the valley become "sinuous hills taking the shapes of so many sleeping naked women." Miner's natural descriptions forward her feminist reinterpretation of the West, which disputes the Anglo, masculine idea of ownership. Emily's ruminations on her surroundings boil down to a question that becomes integral to her transformation, "Did land shape people or vice versa?" Equally, her relationship with her own land grows to encompass the perspectives of all the areas cohabitants – the quiet company of wildlife and the people who lived there centuries before, as much as her personal history. In Emily, Miner presents a compelling character who recognizes the vast complexities of an ever-changing community just as she comes to understand "the vanity of expectation" during the topsy-turvy year following her partner's death.
| | |
| --- | --- |
| Review by: Kyle Deacon2402 Westover Ave. SWRoanoke, VA 24015 | Publisher: University of Oklahoma Press2800 Venture DriveNorman, OK 73069-8218 |
From Curve Magazine: Books We Shouldn't Have Missed in 2008
After Eden, Valerie Miner (The University of Oklahoma Press): Grief, environmentalism, immigration, homelessness and other significant issues are effortlessly woven in Valerie Miner's latest book that deals with a lesbian community in California. Heavy and hopeful, it's a must-read. —Ainsley Drew
Books to Watch Out For, Spring, 2007
I just loved Valerie Miner's After Eden, her latest work following 2005's Lammy nominated collection of short stories Abundant Light (reviewed in TLE #12). Emily Adams is a city planner from Chicago who has traveled to Northern California (think closer to Mendocino than San Francisco) for a vacation at the cabin she shares with her partner, Salerno. But when Salerno dies unexpectedly, Emily's life changes completely. The cabin was first Salerno's, part of a lesbian land trust with women who were more Salerno's friends than Emily's. But all rally around her as Emily decides what to do with the cabin, her life and job back in Chicago, and with Salerno's legacy as a musician. It's a sometimes heartbreaking, but ultimately rejuvenative story of a woman's journey through grief and rebirth, populated with an eclectic family of choice and a supportive brother who goes through his own changes, too. I highly recommend After Eden.—Suzanne Corson
"Densely layered yet transparent, tragic yet shimmering with hope, After Eden is the story of a very special community of women in Northern California, as well as the account of one woman's grief over the unexpected loss of her beloved. Ultimately, it is an affirmation of community values and their triumph over adversity. After Eden offers a compelling narrative enriched by lyrical passages of stunning beauty. I found myself marvelling at Miner's writerly gifts and the spiritual strength that underlies the novel. I have no doubt about it: After Eden is a necessary novel for the 21st Century."—Pablo Medina

---
"Valerie Miner's fiction is like an arrow shot dead into the
essence of the lives of working-class women. Her well-crafted prose is clean,
direct, and honest. She tells the truth."
Jana Harris, poet and novelist
"Seldom has a contemporary writer portrayed commitment in such an
absorbing voice.
Miner has written a novel of such substance that it makes most of the fiction
on the bestseller list melt into banality."
Pacific Sun
"This fundamentally – though not exclusively – serious
examination of the spectrum of radical politics as experienced by two generations
of women at once personalizes and intensifies the conflict between ideals
and reality. Recommended."
Library Journal
"Blood Sisters is political fiction at its best…"
The New Women's Feminist Review
"The novel is tightly written, filled with complicated emotional demands
that draw out the characters, adding realism and rendering the tragedies they
fall into all the more gripping."
Booklist
"Unself-conscious dialogue is one of the greatest strengths of this
novel…The author has kept a fine ear cocked for the real, off-camera
language of politics."
The Los Angeles Times
"[Miner] bravely handles a complex web of allegiances and loyalty systems
– ties of blood, feminism, and patriotism. Indeed, as the book scrutinizes
the cousins' relationships with each other, with women, with mothers,
lovers, and the countries to which they are emotionally bound, all the questions
seem to connect and all conflict…Blood Sisters is highly intelligent
and honest."
The Guardian (London, England)
Praise for the 2003 edition:
"The intensity is overwhelming. Unreserved commitment demands payment.
In Blood Sisters, the payment is as disastrous as the conflict over Northern
Ireland. "Blood Sisters is political fiction at its best."
The Feminist Press
"Miner shows the real consequences of terrorist theories – loss
of limbs and lives – but also shows why terrorist groups are attractive
to young activists. The novel is unique because it discusses these concerns
in the context of women's lives."
Radical Teacher
---
"I liked the form of Movement very much – it is indeed a novel
of movement, political, personal movement from country to country and subculture
to subculture…vignettes and stories out of Susan's life, but never
episodic, always carrying her development as a person and as a political personage
a step farther."
Marge Piercy
"This is a compelling book, invigorated by Susan's idealism and
enthused with her deep passion for life."
Publishers Weekly
"Miner doesn't show Susan's eventual transformation into
a highly successful radical feminist journalist in a linear way, but instead
describes isolated wedges of Susan's experience, not always in sexist
or feminist contexts. In scenes that do directly explore feminist themes,
Miner never loses control, never allows rhetoric to overtake English, hysteria
to overtake gentle irony. Such control makes Susan's final commitment
to radical feminism and lesbianism the natural product of her experience,
not a moral contrivance of the author's."
The Los Angeles Times
"Each chapter can be read on its own as a short story, making it valuable
on its own terms. In so structuring her narrative Miner succeeds wonderfully
at making the novel a chronicle of movement and growth; character development
comes more from experience and interior monologue."
The San Francisco Review of Books
---

MURDER IN THE ENGLISH DEPARTMENT
"Valerie Miner's characterization of professors is a merciless
delight."
Rita Mae Brown, author of Rubyfruit Jungle
"…a totally compelling and utterly modern mystery, the 'mystery'
of how women go about fighting back against sexual abuse and division. A sparkling,
hope-giving book."
Judy Grahn, author of The Work of a Common Woman
Miner's characters are sharply clear; the dialogue is completely credible.
The plot is dynamite and hurls you from page to page….Valerie Miner
is a fascinating writer whose intellectualism infuses her story with validity.
I found myself immersed and entertained in Murder in the English Department."
The Pacific Sun
"In Murder in the English Department, Miner shapes a new breed of mystery
that combines elements of family conflict evocative of Joyce Carol Oates and
women strong enough for Gail Godwin or May Sarton with a sense of creative
humor uniquely her own."
Washington Book Review
---
"With laudable perceptiveness, Miner probes issues that are as relevant
today as they were forty years ago: the rampant bigotry that deprives Wanda
of her father and her liberty; Moira's uncertain sexual orientation;
Ann's wariness of commitment; and Teddy's adjustment to her own
homosexuality. The novel's rewarding conclusion also has contemporary
overtones, for the women's hard-won 'shared sense of potential'
finally guides them safely beyond 'anguish and loss' to equanimity."
The Los Angeles Times
"An extraordinary tale of women in wartime. Most novels set in the
'40s are about men fighting World War II. This one is unique in that
the protagonists are four young women."
San Jose Mercury News
"On the huge canvas of World War II we follow the lives and friendships
of four women. We follow with passionate interest these interrelated but widely
different stories, and as the four women grow, we grow with them. A complex,
nourishing work of art."
May Sarton
"An exceptionally good novel that realistically depicts the personal
trauma faced by four young, working-class women at the outbreak of World War
II…Miner writes with perception and sensitivity about the changes wrought
by the war in each woman's life and the strong bond of friendship that
sustains them throughout years of upheaval. Rich in atmosphere, strong on
plot, and featuring a down-to-earth portrayal of ordinary individuals in extraordinary
circumstances, this engrossing novel far outshines most similar works of historical
fiction."
Booklist
"Finally, a World War II novel written from the perspective of women's
lives – and not Hollywood starlets waiting for Johnny to come marching
home. All Good Women gives us a broader understanding of an era as well as
a deeper awareness of the significance of social forces in our own lives."
Seattle Times
"A strong, authentic novel, All Good Women is a celebration of female
friendships. It maps the moving boundaries of disclosure, generosity and affection
that survive war and unshared life experiences. Here's a book that's
an unspoiled pleasure to read, with a little value-added learning acquired
along the way."
Company Magazine
"Fast-moving and ever faithful to the atmosphere of the period, All
Good Women creates a vivid and vital portrayal of life in war-torn Europe
– and beyond – which will gladden the heart even in moments of
pathos and poignancy."
The Jewish Chronicle
---
"Miner's novel takes place, in her own words, 'in an imaginary
café and an imaginary news shop on an imaginary corner of San Francisco.'
Those are the workplaces of Chrissie MacInnes, an outspoken, Scottish-born
waitress, and her friend Margaret Sawyer, a clerk inclined toward introversion.
These two longtime pals, both of whom are in their seventies, find their relationship
tested by a fierce community conflict involving gentrification and electioneering.
When the fight for the neighborhood turns violent, the two team up to battle
an arsonist bent on destroying property. Chrissie and Margaret's collaboration
leads them examine their pasts and their fears for the future while affirming
the importance of friendship and community. In her afterword, critic Donna
Perry writes, 'By showing us two very different heroines, in a totally
believable setting of violence and political corruption, Winter's Edge
reminds us that love takes many forms and heroism isn't reserved for
the young."
The Washington Post
"Chrissie and Margaret
are beautifully drawn characters, full of prickly yearnings and well-practiced
defenses against the stacked deck of life…Miner's tough, spare
prose turns wonderfully eloquent…with an integrity that celebrates a
special kind of affection."
Los Angeles Times Book Review
"Valerie Miner is an author of reach, audacity, range, uniquely important
to understanding our time. In Winter's Edge she again enlarges the scope
of contemporary fiction. A poet of the city, the everyday urban life, she
gives us its beat, its struggling human beings, its worklife, its politics,
its interrelationships; best of all, its old women on the edge of survival.
A U.S.A. seldom portrayed."
Tillie Olsen
"In Winter's Edge, Valerie Miner brings us two wonderful old
women whose relationship is feisty, tender and deep. No fluff about senior
citizens here! In the whole novel we live close to the marrow of humanity
itself, its sordid side never evaded, its rich amalgam celebrated with fervor.
What a splendid novel this is!"
May Sarton
"Valerie Miner is a brilliantly gifted storyteller and Winter's
Edge is one of her best novels to date."
The Midwest Book Review
---
COMPETITION: A FEMINIST TABOO?
"Everyone wins because this book is here. Original, intelligent, sensitive,
it probes old, hard realities and imagines new and better ones."
Catharine R. Stimpson, Professor of English and Dean of the Graduate
School, Rutgers University
"This is a remarkable collection of insights in a field where humane,
useful, non-male perspectives have been scarce. Competition is a paradigmatic
and indispensable book. Its reading changes a man…dramatically. Similarly
it surely empowers women in today's intricately competitive areas."
Houston Baker, Albert M. Greenfield Professor of Human Relations,
University of Pennsylvania
"This book is a pleasure to read: intelligent, thoughtful,
and altogether touching in its collective honesty."
Vivian Gornick, author of Fierce Attachments
---
"I have come to depend on Valerie Miner as an uncommonly honest novelist:
humorous, acute, and kind. In Trespassing her writing attains a new beauty
and intensity."
Ursula K. Le Guin
"Polished, sincere, thought provoking, and compelling. These stories
may change the way some readers look at the world and their own relationships.
The short story can do no more."
Scotland on Sunday
---
"Valerie Miner's provocative new novel explores the territory
of betrayal: of country, family, and self…With a satisfying deftness,
Ms. Miner moves the story back and forth from the present to Cora's
painful childhood and her radical college years….Ms. Miner powerfully
portrays Cora's struggle to lead an independent life."
The New York Times
"A Walking Fire is very likely Valerie Miner's best novel thus
far. It is thoroughly believable, densely layered, and expertly told…Suspense
builds as we yearn to find Cora's missing links. And Miner knows how
much to reveal and at what point. It's an interesting and exhaustive
trip. If peace is not made between Cora and all of her family, at least Cora
is able to make some peace with herself, which is maybe what this journey
is all about."
Sojourner
"Here's a good big story of Cora's journey home across
a continent and twenty years. Valerie Miner's gift is to make us see
again that the issues we too often see as political are really deeply personal.
This is the mission of our best fiction. A Walking Fire is a worthy pilgrimage
and a welcome book."
Ron Carlson, author of Plan B for the Middle Class
"This powerful and poignant novel is about the cauterizing of wounds:
personal, familial, and political. It explores the lingering damage of Vietnam,
both for those who fought in, and those who fought against that war. Valerie
Miner's analysis is lucid and unsentimental. When profound political
divisions run through the center of a family, there are no easy answers, only
temporary truces, and sometimes, here and there, if we're lucky, transcendent
moments of hope. For any reader who was politically involved in those turbulent
times, there will be a strong inner assent to Miner's work: yes, this
was the way it was. A wise, compassionate, unforgettable novel."
Janette Turner Hospital, author of The Last Magician
"A Walking Fire tallies up the costs of many kinds of exile –
from family, from country, from every kind of mainstream comfort we build
our lives on. Then, through honest and painful detail, daily and undramatic,
Valerie Miner shows the kind of strength it takes to pay the bill. This moving
novel brings politics back to where it begins and ends – in the life
of the family, its secrets, its compromises, and the affection that sometimes
eludes acknowledgement – without ever giving up its radical commitment."
Rosellen Brown, author of Before and After
"A Walking Fire is as much a monument to the [Vietnam] war as the Vietnam
Memorial the middle-aged Cora visits with her daughter in Washington, D.C.
As Cora's political beliefs pit her violently against the men in her
family, Miner's novel documents the political turmoil and the heartbreak
that war brought to many other U.S. families. The results of the Casey family's
political conflicts serve as a metaphor for the U.S. role in the Vietnam war."
Minneapolis Star-Tribune
---
"Shaped by the rhythms of a walk through nature, this gentle, thoughtful
novel explores what's too often ignored: the life-long bonds of women's
friendship."
Andrea Barrett
"Range of Light is Valerie Miner's most skillful novel yet. Her
exploration of the dynamics between two friends is subtle, profoundly moving,
and true. Miner's stunning descriptions of these mountains map a mysterious
upland world. It made me want to buy some hiking boots and get going!"
Lisa Alther
"Miner has a keen eye for detail. Her perceptive descriptions make
the high country a significant character in the women's quest for renewed
understanding: 'A sliver of moon was rising over Kuna Crest, whispering
into the shoulder of the mountain as it ascended.'..With skill and assurance,
Miner portrays the range of small but significant moments that tenderly renew
the friendship….Miner has done a commendable job of exploring what holds
people together. She understands complication well and can live with the contradiction
that secrecy, grievances and slights are as important a fabric as empathy
and concern in sustaining a friendship. How Adele and Kath understand themselves
and their choices makes for a satisfying journey. The reader is privileged
to accompany these resilient women during their week of losing and rediscovering
each other in the High Sierra."
Chicago Tribune
"There is a stirring gentleness is Miner's work, which brings
to life the emotional inarticulateness of these two women and captures their
uneasy journey towards renewal of love and friendship…There is a lyrical
subtlety to Miner's work."
Lambda Book Report
---
"With a novelist's consummate skill, Valerie Miner weaves together
the lives of her grandparents, her mother, and herself to create a passionate
and engrossing memoir."
Margot Livesey, author of Eva Moves the Furniture and Criminals
"This is a richly imagined family history: beautifully written, deeply
felt."
Vivian Gornick, author of The End of the Novel
of Love: Critical Essays and Fierce Attachments: A Memoir
"Miner…uses her investigative skills, her novelist's imagination,
and her proven ability as an engaging storyteller to create the best kind
of memoir – the kind that places a personal history intelligently into
its political and historical context."
Judith Barrington, author of Writing the Memoir: From Truth to
Art and Lifesaving: A Memoir
"I was thoroughly captivated by The Low Road, which does for Valerie
Miner's family what all of us would love to do for our own: it gathers
the broken shards of 'documentable' history and fills the seams
with history to make a plausible and moving whole."
Rosellen Brown, author of Half a Heart and Tender Mercies
"…imaginative and durable…"
Chicago Tribune
"Miner brings a researcher's eye together with a novelist's
search for truth in a story that reads as unflinchingly honest."
Minnesota Literature
"Fascinating and creative…emotionally thought-provoking."
The Lansing State Journal
"The Low Road is as entertaining as it is insightful. Valerie
Miner is an obviously brilliant author writing about the story she has carried
with her for a lifetime. And it's a good story."
The Bloomsbury Review
"Truly, the story belongs to Miner's mother, Mary, the repressed
link between the lost homeland and the new world. Miner fills in this history
with aching detail. Mary changed her name to Pat, married and had children.
She worked in a coffee shop. At 50, her husband left her. At 77, she retired,
eventually succumbing to Alzheimer'. Standing in her mother's
empty home, Miner remembers her last days, divorced, alone and living in a
studio apartment. 'All this after eighty years? It could have been worse,
is my mother's reply.' Coming at the end of the book, it's
a lovingly rendered chapter, typical of the rich family portrait Miner has
created."
Washington Post
"Though her story is deeply emotional, filled with sad losses, including
the loss of her mother, Miner's reticence and lack of self-indulgence
have helped her to dignify the narrative with humor, to focus on the larger
questions, to work past blame and to treat her Scottish family – especially
her mother's 'extraordinary, ordinary life' – with
compassion and respect."
Women's Review of Books
---
"It is a brilliant volume, one that challenges the notion that 'trendy'
equals 'excellent,' that affirms there is a connection between
lesbianism and feminism, but that the connection is by no means simple and
identical. Above all, she shows a mind that is subtle and far reaching."
Lambda Book Report
[Miner] coveys a more active and hopeful understanding, and practice, of
'collectivity' in the women's movement than anyone I know
today…The strengths of Rumors from the Cauldron lie in its contributions
to the conversations we have informally and in print about feminism –
where we have come from, who we have been, where we are going, and who's
the we?"
Women's Review of Books
"Readers who run to the bookstore for each new work of fiction by Valerie
Miner will be thrilled by the insights and revelations that Miner shares in
Rumors about her development as a writer and the construction of her books.
Those who aren't yet Miner connoisseurs will surely become so after
enjoying the essays and reviews in this surprisingly eclectic collection.
Its themes range from working class and lesbian identity to Chinese literature,
but Miner's staunch advocacy of an international feminist movement is
the thread that holds the pieces together. The reader can't help being
charmed by Miner's warmth and intelligence."
Sojourner