Home
What's New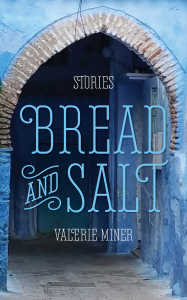 BREAD AND SALT
Short Stories by Valerie Miner
Whitepoint Press
Bread and Salt reveals a master storyteller writing in her prime: searching, original, compassionate and witty. Miner's deftly moves readers across the seas with lush prose and razor-sharp insight.  These stories celebrate the musical complexity of language while being accessible to a wide audience.
This collection contains stories from the best literary journals including Ploughshares, Five Points, The Michigan Quarterly Review and Southwest Review.  They range from mirco-fiction to novella navigating terror, grief, passion, and whimsy.
Compelling and vivid, Valerie Miner's fifteenth book and fifth collection of short fiction uses the metaphor of "salvage" to consider the reclamation of the natural environment, human relationships, material objects. The stories are about
forgiveness, reunion, rescue, repair, return and restoration as Miner reveals how family and friendship are enriched by differences in nationality, race, class, and gender.
In Miner's characteristic "social fiction," we meet characters in the historical moment and in the larger world as well as the more immediate contexts of family, workplace, love affair, friendship.  These are stories in which people's ideas as well as their feelings provoke the action. 
As characters live in/travel in Tunisia, India, Indonesia, Italy, Turkey, France and the United States, they consider individual agency in very local as well as global contexts. Miner addresses real world themes of immigration, suicide, gun violence, state terrorism.  Some stories are fanciful; others are tragic, yet each one shimmers with hope confirming once again that Valerie Miner is a writer necessary for the 21st century.
Publication Date: September, 2020, https://whitepointpress.com/our-books/bread-and-salt-by-valerie-miner/
IN OTHER NEWS
New Book: Bread and Salt: Short Fiction, Whitepoint Press, 2020.
Faculty, Stanford Center in Paris, Spring Quarter, 2020.
Visiting Artist, February-March, American Academy in Rome, 2020.
Lecture, 4pm, Shaindy Rudoff Graduate Track in Creative Writing at Bar Ilan University, Ramat Gan, Israel, 2019.
Lectures and Workshops, Tel Hai College and Environs, Israel, 8-13 December, 2019
Lectures, Readings, Workshops, University of Alaska, Anchorage MFA program, July 2019
Lecture, Institut Américain Universitaire, Aix, France, May 2, 2019
Brown Fellowship to La Maison Dora Maar, Ménerbes, France, April 1-30, 2019
Reading AWP Conference, Oregon Convention Center, Level 1, B114, Portland, Oregon, March 29, 2019, 12:00 pm to 1:15 pm.
Workshop and Lecture, Chennai 17, 18 December 2018. More information.
Reading, Studio 81, Vasant Kunj, Delhi, 14 December, 2018. More information.
"Il Piccolo Tesoro," short story, forthcoming in

Ploughshares

, January, 2018.