Home
What's New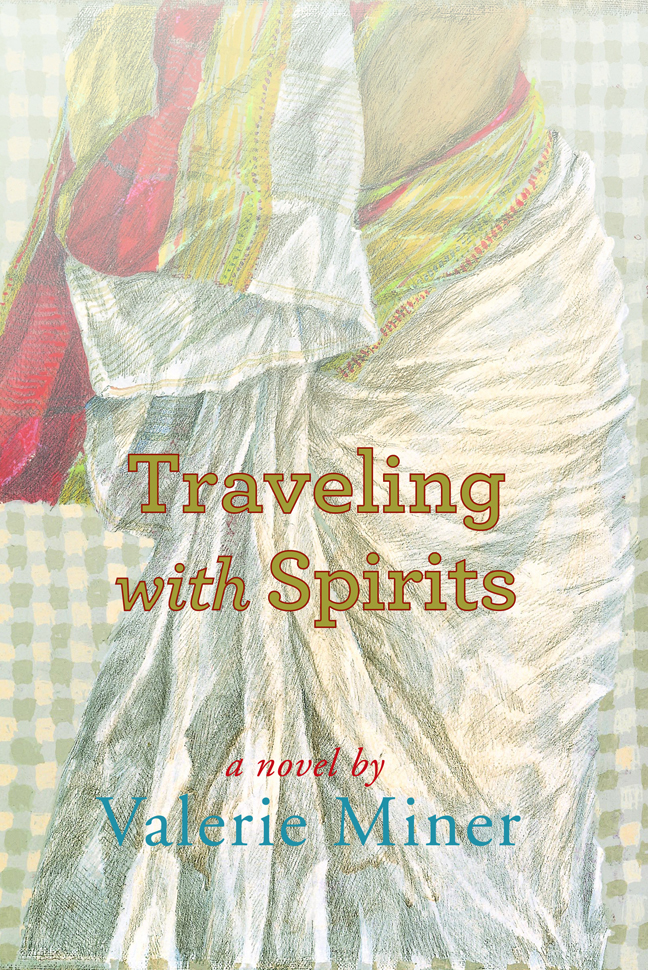 TRAVELING WITH SPIRITS
A Novel by Valerie Miner
Livingston Press
Traveling With Spirits is an exciting, nuanced novel about an unpredictable journey across continents, cultures and values.  This is a story of deep, abiding friendship, surprising romance, political conspiracy, physical challenge and emotional courage.   Monica Murphy quits her Minneapolis medical practice to work at a Catholic medical mission in a decaying Indian hill station in Uttar Pradesh.  She confronts challenges to her faith, her intentions and about the nature of her contributions.   Once again Valerie Miner tackles serious political and moral questions while exploring her characters' lives with wit, compassion and verve.  Miner is the author of 14 books.  She teaches at Stanford University.
ADVANCE PRAISE FOR TRAVELING WITH SPIRITS
"Traveling with Spirits is a provocative, engaging odyssey through northern India and the U.S. Midwest.  Valerie Miner is brave enough to ask tough questions about religion, politics, and international aid, generous enough to acknowledge human goodness alongside human failings.  The result is a vibrant portrait of Monica Murphy, physician of body and her own soul.  I was immediately absorbed by the novel and found it completely engaging.  The subtlety and complexity with which Miner treats religion, healthcare, and the complications of First World aid in a postcolonial world are deeply impressive."
Valerie Sayers, author of The Powers
"In Traveling With Spirits, Miner's deft hand moves the reader from a clinic in Minneapolis to a Catholic medical mission in Uttar Pradesh, with lush prose and razor-sharp insight into the struggles and questions that reside in both places and in our common humanity.  Neither Miner nor her characters are content with easy answers, but tackle them head-on, whether it be the nature of faith, the strictures placed on the clinic by the church, the dangerous territory of marriage within different cultures to the question of the very presence of Westerners in the third world. Traveling with Spirits makes you think, makes you laugh and the pleasure of it will be with you for a long time. "
Margaret-Love Denman, Daily, Before Your Eyes
"Alive with details, wrought with questions of belief, and riven with the tension of wanting to know where she fits in the world, Monica's story is compelling and vivid."
Bret Lott, author of Jewel
IN OTHER NEWS
11 October, 2017, Lecture and Workshop, IAU, Aix, France.
"Il Piccolo Tesoro," short story, forthcoming in

Ploughshares

, January, 2018.
"Iconoclast," short story, forthcoming in 10th Anniversary Issue of 

Consequence Magazine

(February/March 2018). Women and War Issue.
"Il Piccolo Tesoro," short story, forthcoming in Ploughshares, January, 2018.
Lectures and Reading, University of Alaska, Anchorage MFA Program, 7-10 July, 2018.
"Iconoclast," short story, in 10th Anniversary Issue of Consequence Magazine (February/March 2018). Women and War Issue.
"Incident on the Tracks," in Belmont Story Review, Double Issue, 2018
"La Fourmi Faim" in The Coachella Review, June, 2018
Lectures, Reading, Workshops, Chennai India, 

17-21 December, 2018

.
Reading, Studio 81, New Delhi India, 

13 December, 2018